3 Flagstaff Homes That Sold
Every month, we will post 3 Flagstaff homes that sold in the prior month, each of which reflects a specific segment of the Flagstaff market.
As a Flagstaff realtor intimately familiar with our market segments, I offer you my personal opinion of how these homes describe what's happening in the Flagstaff market.  It depends on the type of home, location and price!
Ask for a personal report for your home and your neighborhood. There is no "one size fits all!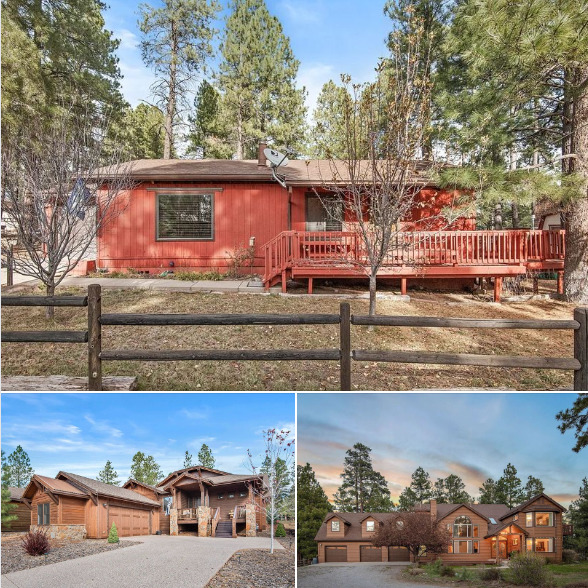 The first home is located at 2639 Chaco Trail in Flagstaff. This 3 bedroom, 2 bath home was listed for $549,850 and sold for $566,500. A sold price of $404.3/sf.
This home was purchased with a VA Loan, meaning the buyer is a veteran who was able to use VA Loan privileges. Located in Kachina Village, this beautifully remodeled home is in a community of cabins on forested lots, approximately 3 minutes south of Flagstaff. With no HOA, this community is extremely popular with buyers who love homes in the trees. It is also popular with buyers who want to use their homes for short-term rentals, meaning the competition to purchase these homes can be intense.
Only three homes sold in January in Kachina Village, so it's clear that these homes are a hot commodity, which can explain the sellers receiving an offer for over $16k over asking.
*Listing courtesy of Kelly Broaddus, eXp
The second home I wanted to highlight in Flagstaff was listed for $1,150,000 and sold for $1,210,000. 4140 Pack Saddle is located in Flagstaff Ranch.
With 3 bedrooms, 3.5 baths and over 2,400 square feet, this home sold for approximately $501/sf.
Flagstaff Ranch is one of our three gated golf communities in the Flagstaff area, and requires the buyer purchase either a golf or social membership.
For this home specifically, a golf membership was required, so an additional $80,000 cost and monthly fees are $918.
This home is a prime example of the Flagstaff luxury gated golf sector, often attracting a large pool of buyers from the Phoenix area who buy homes to escape the heat. This beautiful home boasts .22 acres of space in a cul-de-sac for peace and privacy. Open concept, oversized garage for all your toys, and amazing amenities!
*Listing courtesy of David Anderson, Capstone Homes Realty
The third home, 7731 Pine Canyon, sold in the east rural area of Flagstaff. It was listed for $1,497,000 and sold for $1,300,000 - it was the highest priced home that sold in January of 2023.
While the two above sold for over asking price, this one did not, and was on the market for a total of 264 days.
Although this is a grand home with 6 bedrooms, 3 bathrooms, and 4 acres, it was built in 1993 and the finishes are original. The buyer will need to invest quite a bit to bring it up to 2023 standards.
The days on market and negotiated price reflect that.
*Listing courtesy of Blake Cain, Russ Lyon Sotheby's International Realty
Thanks for reading! Hopefully this was useful if you're considering selling a house this year. If you do, I can help you get a record price for your home!
Feel free to call or text me with any questions.
My personal cell is (928) 607-9610.