We believe your home sale should be successful, profitable & enjoyable.
Click Here For Our Complete Marketing Presentation!
We know what makes your Flagstaff home sell.
How it's priced.  How it shows.  How it's marketed.
Selling your home is a big decision, so it's important to work with agents you can trust to get the job done perfectly.
When you make the decision to work with Eileen and The Taggart Team, you're not just getting Flagstaff's top agents who use the best tools and technology to sell your property for the most amount of money in the least amount of time.
You're getting transparency and instant communication throughout the entire process, so you can relax knowing every detail is taken care of. 
We custom tailor marketing strategies to target your Flagstaff buyers - both online and in person.  Plus, our listings shine with the best photography and content.
And we know how to negotiate your best price and find your buyer - in every type of up and down market.  In today's multiple offer environment, our experience means a smooth sale.
Click Here For Our Complete Marketing Presentation!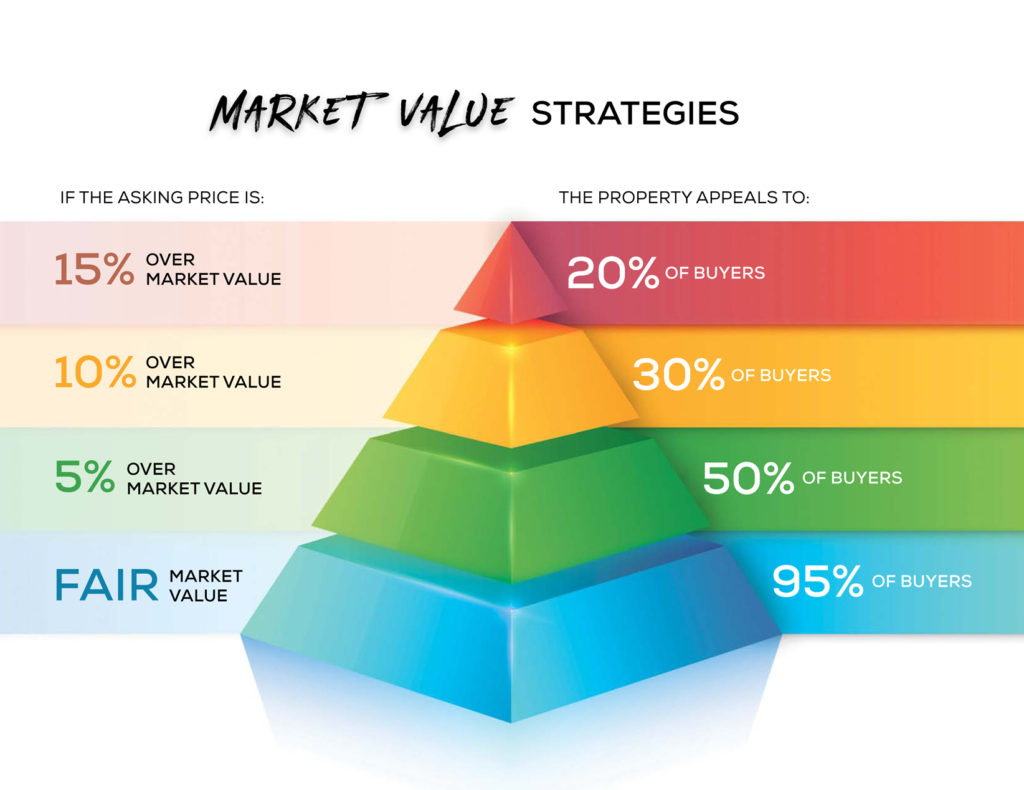 We know Flagstaff.
We use the most accurate methods to price your home.
MARKET KNOWLEDGE.  YOUR NEEDS. CURRENT CONDITIONS.
The right price for your home is not determined by any agent or seller. It's determined by current Flagstaff market conditions and the different types of Flagstaff buyers in the market at the moment.  We know Flagstaff markets and neighborhoods.  We have years of experience working with Flagstaff buyers.  We plug into the most up-to-date data and combine statistics with experience to make sure your home sells for the price you deserve in the time frame you need.
We make your Flagstaff listing SHINE.
PHOTOGRAPHS. 3D WALKTHROUGHS. VIRTUAL TOURS AND VIDEOS.
Today's home buyers are armed with more information than ever. They tell their agents which homes they want to see - and they've already rejected listings with too few or poor quality photos. You know the ones!  We ensure your listing has professional, top quality high-impact photos, videos and 3D walkthroughs to make a lasting first impression and create a desire to see more.
Homes really do not sell themselves.  We help you clean, stage and declutter, work with our photographer and design our marketing so that your home's specific qualities are featured BEST.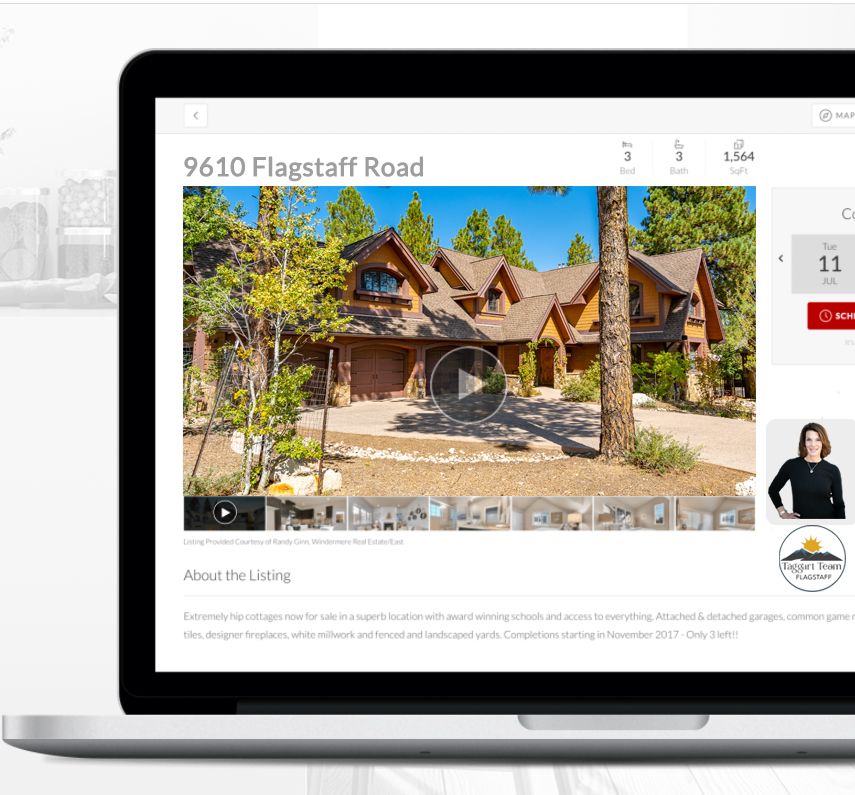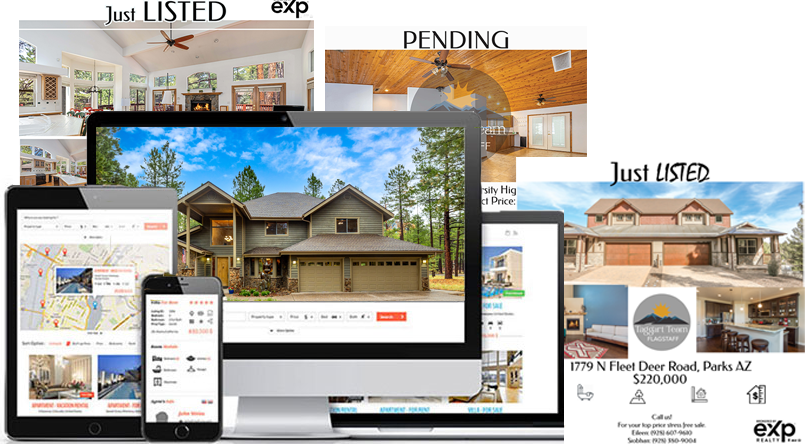 Local & Global. The most far-reaching, effective marketing that reaches Flagstaff Buyers.
CUTTING EDGE INTERNET MARKETING. LOCAL MARKETING. TARGETED SOCIAL MEDIA.
We know how to reach Flagstaff buyers.  We target our marketing strategy and resources to reach the most likely buyers for your home.  Whether you own a condo, single-family home, golf property or luxury home, we draw from our years of experience selling Flagstaff homes to reach your people.  
Marketing Flagstaff homes with proven strategies is our specialty. Ask to see our results.
Targeted Social Media & Google Ads.
INSTAGRAM, FACEBOOK, TIK TOK, TARGETED GOOGLE ADS, REMARKETING, EMAIL BLASTS.
Todays' buyers are on the internet.  Whether young or old, buyers are online. Everywhere.
While you don't have to understand google ads, geofencing or targeted remarketing, we do.
We hire professional marketing specialists who tailor our marketing for your home to your buyer's audience.
We achieve fast, predictable, effective results.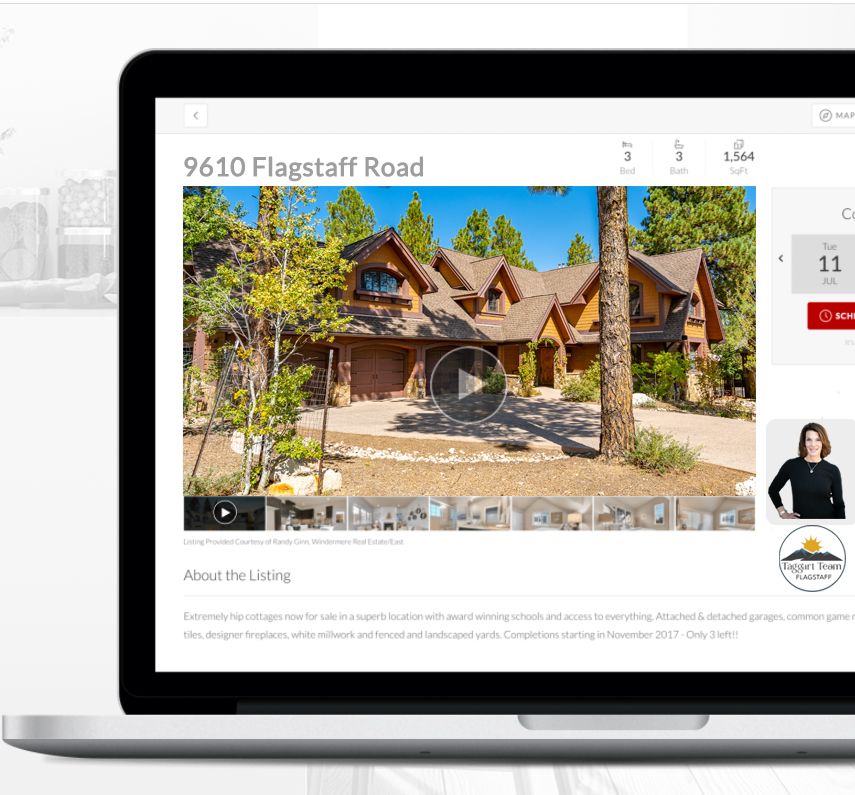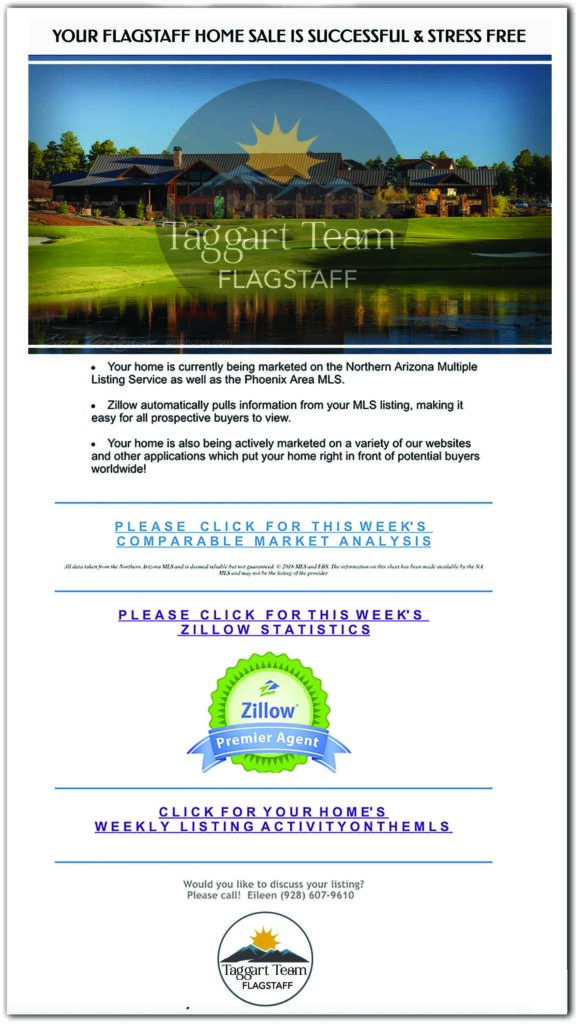 You always know we are working hard to sell your home.
CONSISTENT, MEANINGFUL COMMUNICATION. FEEDBACK. NEIGHBORHOOD DATA. MARKETING REPORTS.
We are engaged with your home's performance. Every showing agent receives a feedback form and/or a text or a call.  We share immediate feedback with you from every showing.  You receive weekly reports that give you an up-to-date CMA of your neighborhood and show your home's performance on Zillow and the MLS.  Our tech tells us how social media is working, and how we can improve.
We monitor buyer feedback, agent feedback and market feedback.
We think. We communicate.  You know we are constantly working to make sure your home is performing best.

Thank you for reading about us. First, Some Stats:
* From 2017-2019, I am Flagstaff's top selling residential homes agent, and in 2018 was RE/MAX's highest selling Arizona agent.
Now, the really important part.
* We were awarded The Best Of Zillow Designation. That means communication that makes you smile and go WOW!
* Whether you own a condominium or luxury Flagstaff property, we partner with you and work hard every step of the way.
* In conclusion: You are happy with our process, completely satisfied with your results.
 My team and I use our experience as top selling agents combined with Flagstaff's most comprehensive, effective real estate marketing to ensure we acheive two goals: your home is sold at top dollar, and you are happy with our services.
* Every client is unique.  We ask important questions, then tailor our marketing and communication to your personal needs. Your desired results are our priority.
* We work hard for you, from first contact to close.
* As experienced residential home appraisers, we know which updates or upgrades create the highest values in Northern Arizona.
* We prepare and stage your home for market using proven techniques that attract the best prices.
* In a world of new "Virtual" Brokerages that make big promises, we offer the leading edge in Real Estate technology combined with personal services that get Flagstaff's, and your,  best results.
* We feature your home in Flagstaff's most comprehensive, effective real estate marketing. That is a big promise. It means:
* Your home is on both the Flagstaff and Phoenix MLS.
* Your home is featured on Zillow.com, Realtor.com and Eileen's custom websites.
* Your home appears on Page 1 of all relevant Google Real Estate Searches.
* We create targeted, microlocal ads on Facebook and Instagram for your home.
* Your home is featured in custom emails to the MLS and our client base.
Since 2007, Eileen has featured Flagstaff listings on custom websites with maximum local and international reach. Your home is seen by more buyers: locally, nationally, globally.
Personal Touch. Local Expertise. Global Reach. Results. It doesn't get any better than ths!
If you are ready to speak with me about selling your home. I answer my phone. If you fill out the form I respond within 24 hours. No pressure. No obligation. I promise.  Call. (928) 607-9610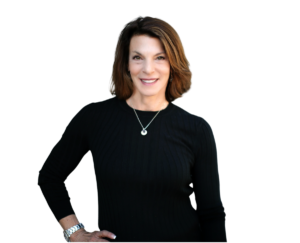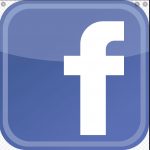 I have a question for Eileen and the Taggart Team