Eileen Taggart and the Taggart Team | RE/MAX Fine Properties
Flagstaff's 2017 Top Producer, Her Dedicated Team and Flagstaff's Highest Selling Real Estate Brand
Outstanding Services you Demand and Deserve.  Call us. (928) 607-9610
Eileen and The Taggart Team at RE/MAX Fine Properties
Thank you for reading about Eileen and The Taggart Team.
First, some stats.
I have been a Flagstaff Realtor since 2007.  I am Flagstaff's 2017 Top Selling Agent with RE/MAX, Flagstaff's Highest Selling Real Estate Brand.

In 2017  I was ranked #25 in Arizona, one of only two agents in Northern Arizona to reach the top 50.
Now, the important part:
Experience, Confidence.
As experienced real estate agents in the Flagstaff market, we command the highest prices for your home when you sell, and provide unwavering communication and support when you buy. Our expertise gives you confidence that you are making your best choices, whether you are buying or selling your primary or second home.
 _____________________________________________________________________
A History of Selling For Top Price
Sellers: We use our experience as top selling agents, plus the most comprehensive, far reaching Flagstaff real estate marketing to reach one goal: we receive the highest price for your home.  See our dedicated Sellers' page here.
From our first meeting, we partner with you to understand market values, ready and list your home together, then feature your home in Flagstaff's best and most extensive real estate marketing. 
Buyers. Unwavering Attention and Support. From Choosing Properties to Negotiation to Close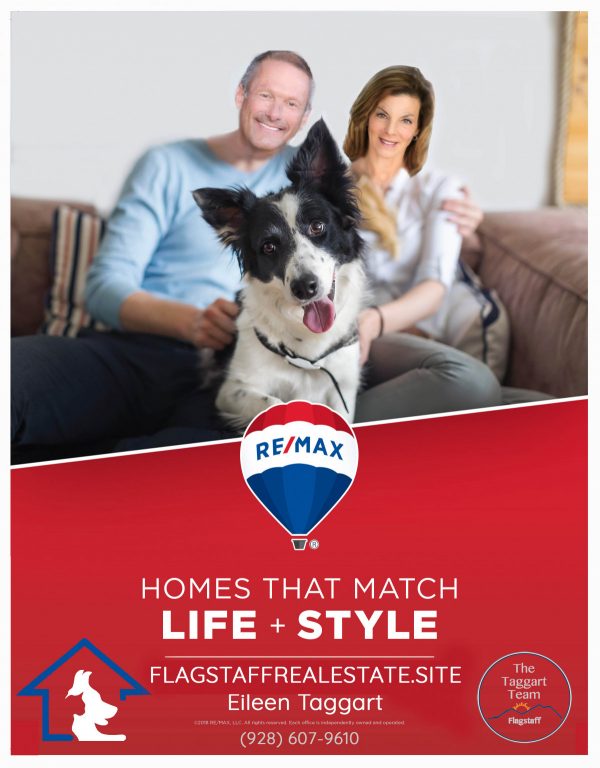 Unwavering Attention and Support
Buyers:   My promise: I, personally provide you unwavering communication, information and support, from first contact, to choosing properties to negotiating your contract to close.  I actually answer my phone and respond to emails -  quickly! 
Negotiating Expertise
As a Flagstaff Top Producing agent through every type of up and down market, I know how to represent your best interests.  There is no guesswork, it's expertise.
Please read our Zillow reviews and allow clients to speak for us. Real Estate does not have to be stressful. When you are confident in your agent and know you are making your best decisions, your purchase or sale is effortless.
Our team at ReMax Fine Properties is always available to represent new clients! We respond quickly!   (928) 607-9610 or realestateflagstaff@gmail.com. 
We look forward to providing you the outstanding services you demand and deserve.
Eileen and Thor