Thank You For Reading About Eileen & The Taggart Team
We are a small, focused, dedicated team of high energy real estate professionals.
I (Eileen) provide one-on-one personal contact from start to close.
I blend the perfect combination of personal communication with cutting edge tech
to make your Flagtaff Real Esate experience successful and stress free.
Sellers: For 16 years I have delivered top price sales in every type of Flagstaff market.
My clients appreciate that I handle every detail from first contact to close.
Buyers and Sellers: I promise negotiating savvy that achieves your best outcome.
You will be delighted with fast, consistent communication that makes you smile and go WOW.
Concierge style personalized services allow you to sit back and be confident you are getting your best results.
A history of creating succesful, satisfied Flagstaff sellers and buyers.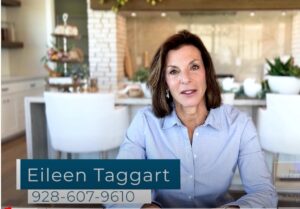 Buyers. Unwavering Attention and Support.
Buyers: Unwavering Attention and Support
* Buyers:   My promise: I, personally provide you unwavering communication, information and support, from first contact, to choosing properties to negotiating your contract to close.  I actually answer my phone and respond to emails -  quickly! 
* As a Flagstaff Top Producing agent through every type of up and down market, I know how to represent your best interests.  There is no guesswork, it's expertise.
* My job is to get you the house you want at your best price, negotiate your terms and guide you through every step of the process. I take that job seriously.
It's simple. When you trust your real estate agent, you have confidence you are making your best choices and achieving your best results. We earn your trust.
Eileen and her team at Exp Realty are always available to represent new clients! We respond quickly!

While we were not "in the market" for a home purchase, we stumbled across a property that met many of our must-have criteria. On a whim, we reached out to Eileen to see if she might show us the property. Even though she had just gotten off of an airplane from an out of town trip, and knowing that we were not necessarily looking to relocate, she nonetheless, arranged to show us the property immediately. Eileen's knowledge of the local market, her contacts with financing and title companies and her prompt responsiveness made for a seamless escrow, from start to closing. We may not have been "in the market" to make a change, but we are so glad that we did and are very grateful that Eileen answered the phone!
Sellers: A Successful, Top Price Sale
* From our first meeting, we partner with you to understand your needs, discuss current market values, and ready and list your home.
* I have created unique pre-listing strategies that are proven to attract your highest prices and empower us so that we are not vulnerable to buyer demands. Just ask me!
*We feature your home in Flagstaff's most far reaching and effective real estate marketing. We consistently communicate, making sure you get feedback and that you know we are working hard to sell your home.
* Hot market? Cold Market? We've seen it all. My local expertise, knowlege of Flagstaff's neighborhoods and home values, and negotiating savvy mean you get your best price and optimal terms.

I can't say enough positive things about Eileen. I would give her 10 stars out of 5! Over the course of 5 years I bought a house, sold a house, and bought a newer one using her as an agent. In addition, a family member who I helped move to Flagstaff, used her as an agent buying a house in the toughest market. If you are looking for an agent that will go above and beyond to make you feel confident, support you when things get stressful, and help you make the right decisions, she is the agent for you! She is available, reliable, knowledgeable, and knows Flagstaff (and beyond)! Eileen is as local as local gets. No matter if you are buying or selling, first time or investor, whether it's a million-dollar property, or a small manufactured home, Eileen treats all her clients with the same priority and respect. I highly recommend her as an agent for all your real estate needs. The only downside...after the deal is made (sold or bought) you will miss talking to her every day.
eXp Realty Awards (2021 - present)

Of over 3,000 Arizona Agents, Eileen was eXp's 2022 Top Selling Arizona Agent!

RE/MAX Awards (2011-2021)