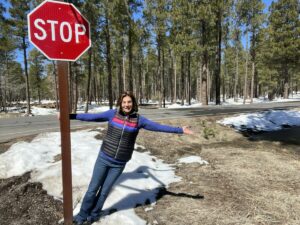 I need to ask for your help! I have 5 families who are looking in the Flagstaff area for a new home. Here's what they're looking for:
1. A retired couple looking for a townhome or condo in the Country Club area of Flagstaff. They are currently renting, but excited to find their dream home! Up to $600K.
2. A long-time local couple who moved away from Flagstaff is now looking for a pied-à-terre! Preferably a townhome overlooking the lake in Country Club or a home in Coconino Estates. Willing to wait and adjust budget for the perfect property!
3. Buyers looking for a second home in a Golf community here in Flagstaff. Interested in Pine Canyon and Flagstaff Ranch. Up to $3M.
4. A family moving to Flagstaff from Alaska. Prefer a home with land and views with space for children and grandchildren to come and visit! Privacy is key. Interested in Doney Park.
5. A local couple currently living in Presidio needs a home with a yard for their new puppy! Actively looking. Up to $850K.
If you know anyone who is looking to sell a home like one of these, all of these families are pre-qualified and excited to find a new home in the Flagstaff area!
Here's my number, if you know of any homes: (928) 607-9610.